OK, you may know that I am Gilmore Girls obsessed. And I wrote, briefly, about last year's Gilmore Girls Fan Fest, and how amazing it was. Well, if last year was pop tarts, this year was a mocha-crunch cream cake!
The Goal and Backstory
Last year a friend of mine forwarded me an email from Jennie Whitaker, the Gilmore Girls Fan Festival-runner, asking for volunteers. I was living in New Jersey at the time and going into peak at work, and just didn't have a lot of time to spare. So, I offered to help for one day. And seriously y'all, it was an amazing day. I got to meet Lane, Zack, Tom, Cesar, Mrs. Kim, Ms. Patty, Gypsy, Andrew, Collin, Finn, and a few more. I took pictures, and literally just went a bit insane with excitement all day.
At the end of the day, my friend was asked to attend an after party. He politely declined, saying how tired he was and how he really just wanted to get home and rest. I, of course, thought he was crazy! Who wouldn't want to party with Lane and Zack? Lane and Mrs. Kim? 2 of the boys from the Life and Death Brigade?! So I said I would go to the after party. I asked one of the women who was heading that way, and she said, "Oh sorry, it's just for the cast." And I sulked back to my car. I drove two hours home, and made myself a promise: Next year, I would work my ass off, and I would get invited to that after party.
Fast Forward to This Year
This year when my volunteer email came, I told Jennie that I would work as much and as often as she wanted. Can I drive to the airport to pick up the talent? Yup! Can I take the talent back to their hotels each night? Heck yes! Can I come in and set up chairs, and then set up the merch at the main tent, and then come back the next day and register people for the first few hours, then work in the merch stand? Where do I sign up?!
The orientation was on Tuesday, where I got my sweatshirt and a brief rundown of the weekend. That night I got my schedule. I needed to be at the event Thursday morning to set up chairs, then that night I was to go to JFK and pick up John Cabrera, his wife, and Eric Henry from the airport. In case you don't remember who these folks are, John Cabrera played Brian from Hep Alien, and Eric Henry played the 'White Walker' who wrote the Stars Hollow Musical in the revival.
My first volunteer day lasted 17 hours, and I didn't get home until 2:30am. I took another volunteer down to JFK with me, and we drove John, his wife, and Eric Henry to get pizza at 11:00pm in Queens! Such a surreal experience.
The next three days were a blur, and I didn't take many pictures since I was so caught up in working! But here are the highlights:
Gilmore Girls Fan Fest Highlights
Zack (Todd Lowe) used my guitar. MY guitar!
You can tell it's mine, cause I used it the last Thursday at an open mic:
Conversations with "The Talent"
I was lucky enough to drive John Cabrera, Eric Henry, Aris Alvarado (Caeser), Rini Bell (Lulu), Stan Zimmerman (Writer), and Sheila Lawrence (Writer) back and forth from their hotel, and with each car ride an awesome conversation ensued . We talked about acting, about what it's like to be a part of this festival, writing for the shows, acting in the shows, and Connecticut. It was amazing. My favorite by far was Stan Zimmerman. Not only did Stan Zimmeran write for Gilmore Girls, he also wrote for The Golden Girls, AND the original Roseanne series.
I also had an awesome conversation with George Bell, who played Professor Bell, about what it meant to be a dialogue coach. He literally was the final say of each scene before they could move on to the next. He also had to coach the actors to talk faster!
Eric Volunteered Too
Eric was there with me on Saturday and Sunday, and it was so much fun to experience this all with him. Also, it was really great to have him in the car with me because I'm awful at making small talk and was kind of dreading having folks in my car while I scrambled to say something remotely interesting.
Brunch with "The Talent"
I got to spend so much one-on-one time with the folks from the show, but there was something so special about the brunch on the last day.
The Swag
I got some pretty sweet stuff this year, including mugs and books! Also, I got to meet the authors!
I Got to Shout "Big Hole" as an Official Job
The Chilton Running Club was hosting a 5K and I got to stand next to this big hole and shout "Big Hole." I also made Eric get a big stick, so we could shout "Big Stick." In case you don't remember that scene: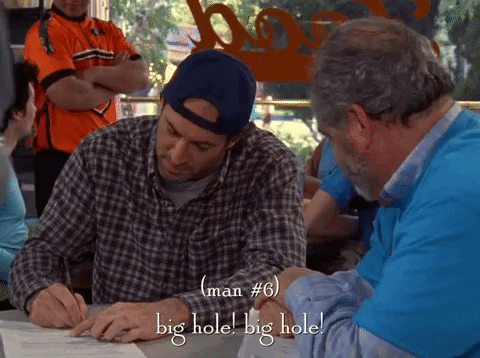 They also gave me a medal, I'm guessing for my amazing shouting, and I was nicknamed "Big Hole Girl" for the remainder of the weekend. Eric was nicknamed "Big Stick Guy." He clearly got the more flattering name.
And Now for the Irony
So remember how I said my goal was to be invited to the after party? Well, this year I was invited to both Friday night AND Saturday night. And the irony is that I didn't go either day! The first night I was just too tired! I had been up the night before until 2:30am picking up Brian and Eric Henry, and then I worked another 13 hours the following day. And then the second day I got a migraine! I stayed until the end of the night, but I didn't make it to the wedding reception or the after party.
I was pretty bummed that I didn't get to go, but I felt a sense of accomplishment that I got invited. The experience was honestly better than any dinner could have been, and I cannot wait to do it again next year!
Oh, One More Thing
Remember how I said that I lived in New Milford CT, because it reminded me of Stars Hollow?
John Cabrera, who played Brian on the show, said that of all the towns he'd seen in Connecticut, New Milford was the one that was most like Star Hollow! Vindication!! Also, I accidentally bashed him in the head with the trunk door, but that's a whole separate thing.
Are you a Gilmore Girls fan? Did you attend the Festival this year?