I may or may not have alluded to the fact that I am completely Gilmore Girls obsessed. In 2007, I binged the first six seasons of Gilmore Girls with my mom, and we watched the final season as it aired. I don't know what brought me to the series, and my inevitable Gilmore Girls obsession, but I wish I did so I could give it a big wet thank you kiss.
Top ten examples of my Gilmore Girls obsession:
My daughter's name is Lorelai. And even though the traditional spelling of Lorelai is actually Lorelei, we used Lorelai after the queen herself.


–

I used to live in New Milford, CT  for years, specifically because it reminded me of Stars Hollow. It had a Fall Festival, a town green, and a gazebo. It was glorious.


–




I own the Gilmore Girls DVD box set, as well as each season on Amazon, because there was a terrible time back in the day when Netflix didn't have a streaming service. Also, when I binged the show, it was through the Netflix mail service, that only allowed you to get two DVDs at a time. It took a while.
I told my husband that he was the Luke to my Lorelai during our wedding vows. Afterwards when we were reminiscing, he was like "yeah, when I heard that I was like 'whoa, she really means it.'"


–



I volunteered at the Gilmore Girls Fan Festival last year, and spent all day losing my shit over all of the Gilmore stars.


–



I listen to Gilmore Girls in the car, instead of the radio. It's also always playing when I go to sleep, because if I try to sleep in silence, my brain runs amok (it's a big bag of weird in there). I've been doing this since Netflix started streaming it back in 2014, which means I've probably listened to the show all the way through over 100 times.
I went through a bought of depression for about two years starting in 2011 and all I did was go to work, watch Gilmore Girls on DVD, and play music. The show literally helped me stay on this planet. Interestingly enough, I'm not the only one who has found emotional support from this show: How Gilmore Girls Saved My Soul and How the 'Gilmore Girls' Revival Helped Me Accept My Mental Health Story, U.S. Marines say "Gilmore Girls" offered "escapism" from times of war.
I loved EVERYTHING about the revival. Loved the fact that Rory was a mess, loved the fact that Lorelai and Luke hadn't had kids because they just never talked about it, loved everything about Emily, loved April (especially when she said that lawyers are fascists, it literally made me laugh out loud), loved the Life and Death Brigade montage, loved the musical, seriously loved the musical (it makes me laugh out loud every time), loved that Rory was sleeping with Logan as part of her being lost and seeking something easy and comfortable, loved Luke's speech at the end…I could go on and on. I could count the elements I didn't like on one hand.


–




–

Also, this is one of the greatest things I've ever seen:


–



In one of my ambitious phases, I registered for a business ID, and the business name I used was Copper Boom.


–



I like people more when I find out they love with Gilmore Girls. It's like when you find out that someone you know has the same birthday as you. I admit that I'm always a little disappointed when people have never seen the show. Don't get me wrong, we can still talk even if you haven't watched the show. I won't hold it against you :).
I get that Gilmore Girls is a show written by people I've never met, but to me it is so much more. It's a place of solace, a source of comfort, a piece of home that I can take with me wherever I go, and family that I call my own.
–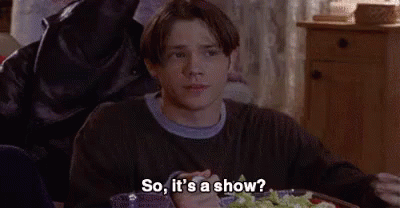 Do you love Gilmore Girls? Have you never seen an episode of the show (don't worry, I won't judge)? Did you love or hate the revival?